Life With Confidence Newsletter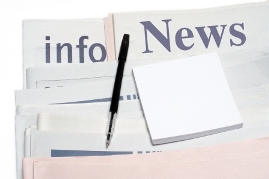 Note: I very much appreciate your interest in my newsletter but I'm not currently sending out newsletters while I work on the renovation of my site. I want to get my site all organized and updated prior to getting back to sending newsletters. Sorry for the disappointment.
---
If you'd like to know when new articles are posted, sign up for my free Life With Confidence newsletter below. I'll send you an email whenever I update the site. That way you'll be kept up to date with the latest confidence thinking information.
I swear I will only send you the Life With Confidence newsletter and you can unsubcribe at any time.
When you get the email, it will be from me, Catherine Pratt, so look for my name in your email box (or even your SPAM mailbox if you sign up and you don't receive anything). Also, just to let you know, I only send out issues about once or twice a month.
Sign up using the following fields:
The Original Newsletters

You can check out the archives below:

2008

June - How Are You Asking Questions?
February - Keeping Motivated
January - Do you use this technique for success with your goals?
2007

October - Dealing With Disappointments
September 12 - A Blueprint For Happiness?
August 2 - Using the Word, "Why?"
June 13 - Interesting Interviews
March 29 - Do You Know The 3 Questions? - My latest book "3 Questions That Will Change Your Life" is now launched. Whoo Hoo!!!! So very exciting. Plus, an article on "How To Deal With People Who Put You Down"
March 13 - How To Deal With Stress - Plus news about my new upcoming book
February 14 - New Confidence Ideas To Try
January 2 - Success With Your Goals
2006
December 12, 2006 - Inspiring Videos and Updates

November 21, 2006 - How Your Thoughts Create Your Reality

August 16, 2006 - How To Deal With Negative People and Jealousy

July 21, 2006 - Quitting Is Easy
June 30, 2006 - What Were You Doing A Year Ago?
June 7, 2006 - Easy Confidence
May 15, 2006 - A Decision Maker
April 27, 2006 - Spring is Here
April 12, 2006 - Staying Positive
March 22, 2006 - Gratitude, TV, and Product Reviews
March 1, 2006 - Dealing With Frustrations
January 25, 2006 - Overcoming Limiting Beliefs and the Fear of Change
January 19, 2006 - Gossip, Anger and Being Tired
January 2006 - The Premiere Issue