Inspirational Stories

Why You Shouldn't Listen to Anyone
Who Says 'You Can't'
by Catherine Pratt
www.Life-With-Confidence.com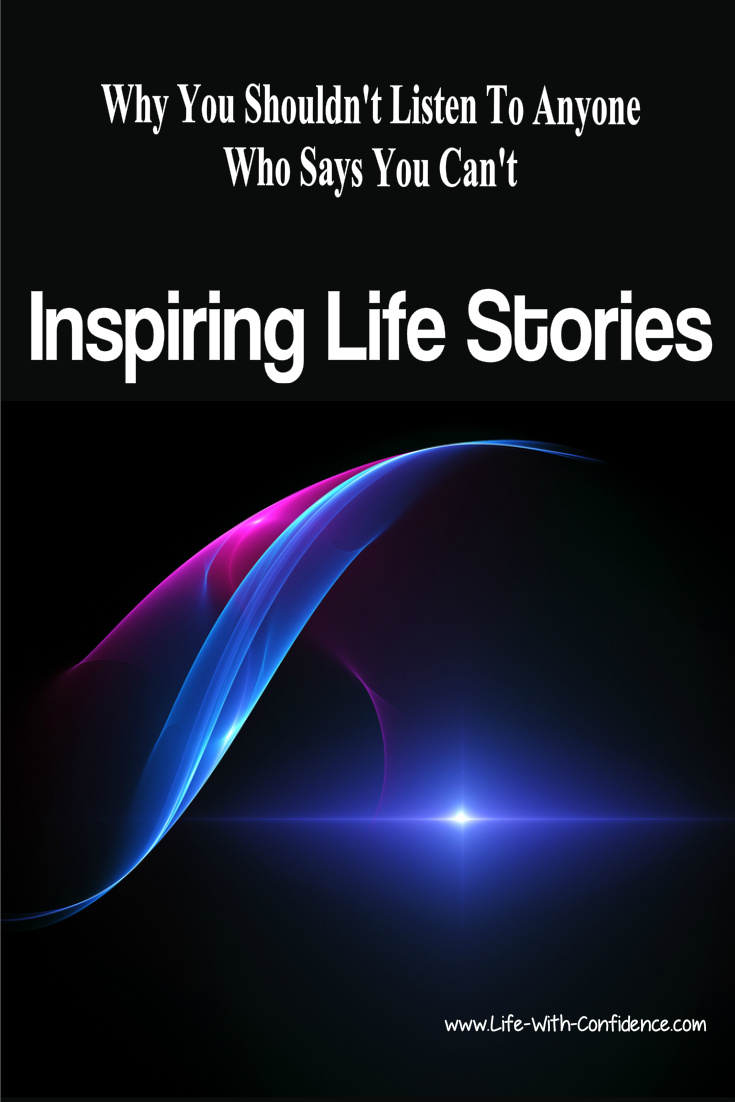 I love inspirational stories from people who have achieved great things by following their dreams no matter what. Imagine what a different world it would be if there was no Walt Disney, no Star Wars, no Beethoven symphonies. These have all been created by people who faced numerous rejections yet refused to listen to the negative people who said, "you can't". Or imagine if someone like Oprah had listened to the critics instead of her heart. The world would truly be missing out on some of it's greatest creations and inspirational people.
Some of my favorite inspirational stories
Francis O'Dea - You've probably never heard of Francis O'Dea but if you live in Canada, you're probably very familiar with the coffee house company, "Second Cup".
Francis grew up in Toronto, was sexually abused at age 13 and around that time starting drinking. Life quickly went downhill and before long he was homeless. He had to beg for change in order to survive. For 6 months he lived on the streets with no clue as to what he wanted to do or how to change his life. Today, Francis O'Dea is a multi millionaire. As he says, "One year I was broke, the next year I was a millionaire."
He changed his life by focusing on what he wanted. He got a job and slowly started to turn his life around.
Four years later he opened a little coffee shop and called it "Second Cup". Second Cup is now one of the largest coffee shop chains in Canada.
• Wayne Gretzky - Wayne Gretzky has been quoted as saying, "It's kind of ironic when I broke in at 17, I was told I was too small, too slow and I wouldn't make the NHL." He's now recognized as one of the greatest hockey players ever.
• George Lucas - George Lucas spent four years sending the script for Star Wars around to the various studios and racking up numerous rejections in the process. Universal Studios and United Artist both both turned him down. Finally an executive from 20th Century Fox who had seen his American Graffiti film and had been impressed by that decided to give him a chance with his Star Wars. The film was made for $11 million dollars and was released in 1977. Since then the original Star Wars trilogy has  grossed over 2.4 billion dollars. If he'd let his negative inner voice get to him he would never have ended up having the highest grossing film of all time.
• Einstein - was considered an "unteachable" fool by his early teachers.

• Michael Jordan - was cut from his high school basketball team. Michael Jordan quote, "I've failed over and over again in my life, and that is why I succeed."
• Bob Parsons - founder and CEO of GoDaddy.com. He had a blog posting one time where he spoke about what he overcame in the pursuit of his dreams. Unfortunately, he's taken it down now but from reading that posting, I learned he definitely wasn't an overnight success and experienced a lot of failure on the way. But, he kept his vision in his mind at all times and said, "I spent very little time looking back or feeling sorry for myself." Another awesome quote from the blog posting was, "Quitting is easy. The easiest thing to do in the world is to quit and give up on your dreams (and quite frankly, that's what all the non-risk takers want you to do)."It's too bad he took his blog posting down. It was a good one. Anyway, instead, you can read his 16 Rules which has some pretty good advice for all of us.

• Beethoven - Beethoven's music teacher told him he was a hopeless composer.
• Colonel Sanders (creator of Kentucky Fried Chicken) - was told "No" by over a thousand restaurants for more than a year while he lived in his car trying to sell his chicken recipe.
• Thomas Edison - I'm sure you've heard of Thomas Edison and all the inventions he created. He's actually known as one of the most prolific inventors in history holding 1,093 U.S. patents as well as a lot of patents in the UK, France and Germany. When Thomas was 4 he was sent home from school with a note. The note told his mother that he was to remove his son from school because he was "too stupid to learn". Thomas' mother decided to teach him herself. He only had 3 months of formal schooling yet went on to create numerous inventions like the phonograph. He was also partially deaf in one ear. There is some controversy as to what he invented and what Nikola Tesla invented, (See more info at this link: Nikola Tesla) but he still managed to be successful even with the lack of support from the formal school system.
• Walt Disney - was turned down by over a hundred banks when he tried to get funding to develop Disneyland. He was also fired from his job at a newspaper for "lacking ideas". He also had several bankruptcies before he was able to develop Disneyland.
• Fred Astaire - Fred Astaire kept a memo over his fireplace from an MGM testing director after his first screen test that said, "Can't act. Slightly bald. Can dance a little."
• Vince Lombardi - was told by an expert that he "possesses minimal football knowledge. Lacks motivation.".
• Louisa May Alcott - author of one of my favorite books, "Little Women", was encouraged by her family to be a servant or seamstress.
• Enid Blyton - is a British author who was rejected by publishers 1,000 times. She wrote Noddy, The Famous Five, The Five Find-Outers, The Mystery Series, The Adventure Series, The Secret Seven, Malory Towers, The St. Clare's series, The Magic Faraway Tree series, The Wishing-Chair series, and hundreds of other books for children. She was one of my favorite authors when I was a kid. I am so grateful she didn't give up on her dream because she was such a big part of my childhood and that's part of following your own dreams, you never know who you will end up inspiring.

• Enrico Caruso - this famous opera singer was told by his teacher that he had no voice at all and couldn't sing.
• Richard Bach - the author of "Jonathan Livingston Seagull" was turned down by 18 publishers before finally in 1970, MacMillan published it. By 1975, this book had sold more than 7 million copies in the U.S.
• Mark Victor Hansen & Jack Canfield - these are the authors of the Chicken Soup for the Soul series. They were turned down by 50 book publishers before somebody finally agreed to take a chance. They have since sold over 75 million copies.
• Lou Ferrigno - most well known for his role on the tv show, "The Incredible Hulk". As a child, Lou developed an ear infection which would result in partial but permanent hearing loss. His father was very critical of and negative towards him due to his hearing disability. His father believed he would never achieve success. Yet, he went on to become the youngest bodybuilder ever to win the Mr. Universe title at the age of 20. Lou Ferrigno quote: "If I hadn't lost my hearing, I wouldn't be where I am now. It forced me to maximize my potential. I had to be better than the average person to succeed. That's why I chose bodybuilding. If I became a world champion, if I could win admiration from my peers, I could do anything."
• Abraham Lincoln - check out all the setbacks, challenges and tragedies that Abraham Lincoln had to survive on his way to becoming president of the United States: Abraham Lincoln
• Stephen Hawking - Well known for his ground breaking ideas on the laws that govern the universe, Stephen was diagnosed with motor neurone disease when he was 21. He has never let this disease stop him from following his passion and achieving a life of happiness. If you read the following page, Living With ALS, you'll see why he's such an inspiration to so many.
• Og Mandino - is a bestselling author of inspirational books. Before he became a well known author, he was addicted to alcohol. One day, after a long night of drinking, he bought a gun from a pawnshop for $3.00. He thought this might be the way to end all of his problems but he couldn't bring himself to pull the trigger. He wandered aimlessly for awhile before he ended up in a library. There he decided to transform himself and managed to completely change his life. From being able to change his own life he has gone on to help many others.
• George Orwell - most well known for his two books "Animal Farm" and "1984". Animal Farm was rejected by a number of publishers including one who told him that it was "impossible to sell animal stories in the U.S.A.". By 1996, Animal Farm had sold 20,000,000 copies and had been been translated into 60 languages.
• Bill Birdseye - invented frozen foods. He discovered the secret of flash freezing which turned out to create an entire industry. This only happened after he went bankrupt seven times.
• Peter Jennings - Remember Peter Jennings? He was a top tv news anchorman for a long time. Did you know he was a Canadian and he never finished high school?
• Anna Mary Robertson Moses - if you're an artist or want to paint but worry about being "too old to learn", then be inspired by Anna Mary Robertson Moses. She taught herself to paint when she was in her seventies. You may be more familiar with her as "Grandma" Moses, one of the most famous folk artists of the 20th century.
• Muggsy Bogues - smallest player in NBA history. He's only 5'3". Who says you have to be tall to play basketball?
• Rick Baker - makeup artist - has won the Academy Award for Best Makeup and Hairstyling seven times for movies like Men In Black, Harry and the Hendersons, and How The Grinch Stole Christmas just to name a few. Yet, during an episode of the tv show Face Off, he revealed that when he was fifteen he was told he'd never make it as a makeup artist.
• Jessica Ruiz - makeup artist - Jessica has an illness which prevents her from using her arms and hands fully but that didn't stop her from achieving her dream of being a makeup artist. She uses her mouth to hold the brushes. At school, she was bullied and when she applied to makeup schools, they all rejected her application. Instead of giving up, she taught herself watching YouTube videos, practicing on herself and her sister, and did various jobs for free until she started getting paying jobs. You can read her full story here on "Meet the amazing makeup artist who uses her mouth to paint faces".

• Robert Toth - professional artist. Robert is an American artist well known for incredible diversity in what he creates. Everything from stunning bronze sculptures to movie props to paintings. He had to overcome learning disabilities as a child. He also hasn't allowed criticism from others to deter him from following what he believes. He was told to channel his energy and focus on one art format only. Instead, he followed his own heart and has become very successful in very diverse forms of art. Another great example of why you shouldn't let others limit you. You can check out some of the incredible work he's done at: www.RobertToth.com
• Salvador Dali - Spanish surrealist painter - was expelled from art school yet still went on to become one of the most famous surrealist painters.
• Jose Neto - A Brazilian who now lives in Canada. Jose was studying English in Canada when he was tragically hit by a stray bullet and blinded. Instead of letting it destroy him, he has gone on to not only continue his education to become a massage therapist, he inspires everyone he comes in contact with his positive attitude. Instead of becoming bitter by the incident, he says it has made him a better person. Read his story here.
• Im Dong-Hyen - a South Korean Olympic Gold Medalist in Archery - Im's achievements in archery would be impressive anyway but what makes him so inspiring is that Im is legally blind. Yet that didn't stop him from pursuing his passion. Read his story here from Yahoo Sports.
• Julia Child - famous chef - growing up and up to her 40's, Julia felt lost and like she couldn't find her purpose in life. It was only in her 40's that she learned to cook and went on from there to host her own cooking show and write the classic cookbook, "Mastering French Cooking".  She basically reinvented herself at age 50 which just shows you're never too old to find your passion.

You can read her fascinating bio in:
Dearie: The Remarkable Life of Julia Child
• Sun Jifa - Chinese man who built his own prosthetic hands - Sun lost his hands in a fishing accident when a bomb exploded prematurely. He couldn't afford to buy prosthetic hands so he spent 8 years building his own from scrap metal he found. Read his story here from Yahoo News.
• Jack Dorsey - co-founder of Twitter and mobile credit card reader Square - Jack grew up with a speech impediment and still doesn't feel comfortable having a normal face to face conversation with people.  I also find him inspiring in that he doesn't even use a desk. He works with an iPad and that's it which shows you can create a great business with very little. Read more here at Yahoo Finance.
• Jacob Barnett - became a paid researcher in Quantum Physics at the age of 12 - When Jacob was two years old, his mother was told he had no future and would probably never even be able to tie his shoes due to his autism. He went on to teach himself calculus in two weeks at the age of nine and is considered to have an IQ higher than Einstein. Read his story here on CTV's Canada AM.
• Sir John Gurdon - Nobel Prize Winner - the Nobel Prize Committee says Gurdon, "revolutionized our understanding of how cells and organisms develop." Yet, Gurdon came last in his class in biology. Gurdon keeps on his wall a report card from his school where his teacher wrote, "I believe Gurdon has ideas about becoming a scientist; on his present showing this is quite ridiculous; if he can't learn simple biological facts he would have no chance of doing the work of a specialist, and it would be a sheer waste of time, both on his part and of those who would have to teach him." You can read his story here on Yahoo Good News.
• Ryan Blair - multi millionaire entrepreneur - his abusive father died of a drug addiction when he was 13, he suffered from dyslexia and Attention Deficit Disorder, dropped out of school in Grade 9, joined a gang, was arrested dozens of times, and yet at the age of 21 started his own company and from there has gone on to become a multi millionaire. Yahoo Finance ran a story on him here and here.

He's also written a book called,
Nothing to Lose, Everything to Gain: How I Went from Gang Member to Multimillionaire Entrepreneur
• Anna Jarmics - Dart Champion, artist - born in Hungary, Anna lost both her hands when she was 10. She lost her hands while trying to save her siblings from a hand grenade that had been thrown into their yard by a Nazi soldier. By age 23, she'd escaped from Hungary and moved to Canada where she not only had to learn a new language but also support her four children as a single mother after her husband emptied their bank accounts and then disappeared.  She's now a well known artist. Check out some of her beautiful paintings at Anna Jarmics / Artist.  You can also read about her in this article from HuffPost Alberta
• Sarah Gordy - British actor - You may recognize her name from appearing in tv shows like 'Call the Midwife', 'Casualty', 'Peak Practice' and 'Upstairs, Downstairs' as well as in various theatre productions. "She also has green eyes, loves cake and has Down's syndrome". Read her full inspiring story here.
• Charles Dickens - author - Charles Dickens' most famous story, "A Christmas Carol" was almost never written. He was facing bankruptcy and considered quitting writing forever. Instead, in six weeks, he wrote A Christmas Carol and it was initially rejected by his publisher. Instead of accepting that, he decided to finance the publication himself even though he wasn't in good financial shape. It's now known as one of those books which changed history because it changed how we celebrate Christmas. Previously, Christmas wasn't a big deal. It was more like Memorial Day as far as holidays went. Imagine no Ebenezer Scrooge. You can read more about the history here.
• Jadav Payeng - Known as the Forest Man of India, Jadav has spent the last forty years of his life single handedly creating a forest from a barren wasteland. His forest is now larger than Central Park and it's created an oasis for animals like rhinos, tigers, and elephants. It's an incredible story of what one person can do. Read the entire story and watch a short video on the Lighter News on Yahoo.
• Jon Morrow - Jon runs Smart Blogger and this posting he made is truly inspirational about how if you want to change your life, you can.
How to Quit Your Job, Move to Paradise, And Get Paid To Change The World
•
Allen Eskens
- author of
The Life We Bury
I really liked this book. Anyway, he says in
an interview with KSMQ
that he decided he wanted to be published by a traditional publisher and to do that he needed an agent. He was rejected by 150 agents before he found one that would represent him. Once his novel was published, he achieved the following: Best Debut Novel of 2014 at the Left Coast Crime Conference, winning the Rosebud Award. The Life We Bury was named a finalist for the Edgar Award, the Thriller Award and the Anthony Award for Best First Novel. It was also named a finalist for the Barry Award for Best Paperback Original novel and the Minnesota Book Award for Best Genre Fiction. Not bad for someone who couldn't get an agent until he'd been rejected 150 times.
Know Any More Inspirational Stories?
What are your favorite inspirational stories? If you have some or even one, send it to me via my contact form. I'd love to keep adding to the list.
Related Articles

 <-- Back to "Confident Thinking" page