The Power of Frustration
What everybody should know...
About how to deal with frustrations
by Catherine Pratt
www.Life-With-Confidence.com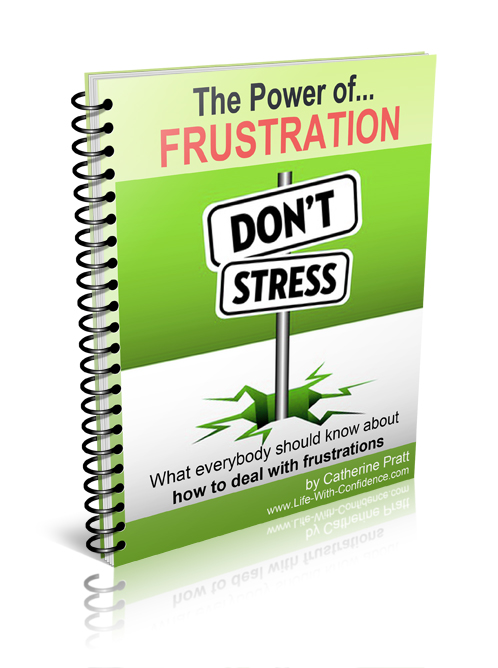 If you want to not only eliminate frustrations but use them to achieve your goals and fulfill your greatest desires... even if you've never been able to in the past...then this book is for you.
And the best part is it's free.
You'll just need to right click on the link or the book image and choose, "Save Target As" and then save to your computer. Or if you just click on the links, you'll be able to read it on your screen. 
Power of Frustration

You may also share it with your friends and family. It's free to you as my gift.
Note: This book is NOT for sale and it is NOT for you to take to sell or sell its resale rights. Thank You.
---
So, what secrets will you discover by reading this book?
Here's just some of the information you'll discover in this book:

How frustrations are actually valuable tools

8 Ways to quickly turn around a frustrating situation
How to instantly deal with frustration

6 Reasons why we're so afraid to change

5 Strategies to change a negative work environment

How to deal with anger due to frustration

Frustrated with making goals? How to make a life direction instead
Plus much more. These are tips and strategies you can use right now to deal with any frustrations you may be having. Discover how your frustration can actually unlock the secret to achieving your greatest desires.
Also, at the back of this very special ebook, you will find a series of quotes which are ready for printing on an 8.5" X 11 sheet of paper for display purposes. Choose the quote that means the most to you and it's ready for you to print.
Simply click on the following link to access your copy now. Power of Frustration

Enjoy and thank you for helping me to spread "The Power of Frustration".

The Power of Frustration
Share This Book With A Friend
If you'd like to send this FREE ebook to a friend to let them about these easy to use techniques, click on the button below.

E-Books