Another Reason for Feeling Tired - Dehydration
by Catherine Pratt
www.Life-With-Confidence.com

While I was reading through a course recently, I saw a reason for why you may be feeling tired.
The suggestion to increase your energy was such a simple idea and one you probably don't even think about.
What is it?
Drink more water.


I discovered that most of us are chronically dehydrated and don't even know it. Some of the symptoms of dehydration are: brain fog, fatigue, and exhaustion. Sound familiar? They were all things I could definitely relate to.
I thought I did drink a lot of water but reading through his report, I realized it wasn't as much as I thought.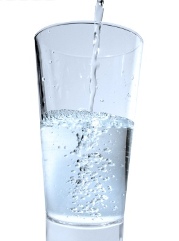 In the course, it suggests to drink "a bottle" of water as soon as you get up in the morning. Drinking water as soon as I got up wasn't something I'd tried before. I was more of a "throughout the day, whenever I remembered" kind of water drinker.
I thought it was worth a try though. If it didn't work, I hadn't lost anything and if it did work, it'd be such an easy solution to feeling tired.
So, now I drink 2 glasses of water as soon as I wake up and then another 2 during breakfast. After that, I drink another two glasses whenever I have a meal and also at different times throughout the day. So, all in all, I think I end up drinking around 10 or 12 glasses per day.
It's a minor change to what I was doing before but the amazing thing is that it has really made a difference for me. I used to struggle to wake up in the morning and also just to stay awake. About 2 or 3 in the afternoon used to be the worst time for me. I would get just so sleepy that all I would want to do is lie down and go to sleep. Since, I've increased my water consumption, I don't have that anymore. I feel much more alert and awake now.
I must say, I'm pretty impressed what a difference a simple change like drinking more water can make.
I would never have guessed that I was dehydrated. As I said, I used to drink water throughout the day. It probably only added up to about 6 glasses at the most though. Some days would definitely be less.
12 Tips For Drinking More Water
If you want to give drinking more water a try, here are 12 simple tips and suggestions:
1. How much should I drink?
The formula I've heard for how much water you should drink is this:
Take your weight in pounds and divide it by 2.
Take the result and divide this by 8 (for 8 ounces of water)
This number is the approximate number of 8 oz glasses of water you should be drinking daily.

Example:
150 pounds / 2 = 75
75 / 8 = 9.375 or about 9.5 glasses of water each day.
This is just a rough guide. If you live in a hot climate or do a lot of exercise, then you'll need more.
You can also use this water calculator to help you determine how much water you should be drinking.
2. Drink as much as is comfortable
If you're not used to drinking water, don't force yourself. You'll just end up feeling sick, bloated, and uncomfortable. Build up your water levels. Start with just one or two glasses first thing in the morning if you can and then build up.
3. "I have to pee every 10 seconds"
For the first day or two, this is what you're going to be thinking. The good news is that your body will very quickly adapt to the new level of water you're drinking. But, it might be a good idea to start your experiment on a weekend or a day that you can stay close to the washroom.
If you find that it doesn't get better after a few days then try drinking smaller amounts of water more frequently.
4. Spread it out
Drink water throughout the day. If you try to drink it all at once, your body won't be able to absorb it properly. So, it's no good trying to drink 9 glasses of water for breakfast. Instead, try to drink a little at least every hour.
5. Add some lemon
Adding a few drops of lemon helps greatly. Makes all the difference for me. I use the bottles of concentrated lemon juice you can buy in any grocery store. Then it's like having a glass of lemonade instead of tasteless water.
6. Use an oversized mug
If you use an oversized mug which holds at least 2 cups of water, it's easier than continually filling up a regular sized glass. Also, if you make a herbal tea in an oversized mug, you're much more likely to drink all of it as opposed to convincing yourself to make another tea.
7. Pay attention to cravings
In the book, The Sugar Fix: The High-Fructose Fallout That Is Making You Fat and Sick
he says that a craving for something sweet is often a signal that you're dehydrated. So, if you're craving something sweet, try drinking some water first. (Great book by the way. I highly recommend reading it. You'll be motivated to stop eating sugar when you read what it does to your body)
Also remember that if you wait until you feel thirsty, your body is already really dehydrated by that point. You need to drink even before you feel thirsty.
8. Crave more and more
I discovered that the more water I drink, the more water I crave. So, now I make sure I have a bottle of water that I can take with me when I'm out and about.
9. Scratchy throat?
One result I've experienced is that some days, I will now wake up with a scratchy, itchy throat. It feels like you've suddenly caught a sore throat. It seems to go away instantly if you drink your glass(es) of water.
10. Lose Weight?
In the course, it said you'll lose weight by doing this. I haven't noticed that. But, I could see how that would happen if you started drinking water instead of coffee filled with milk and sugar or something like juice or pop.
11. Sensitive to dehydrating drinks
I've noticed now that I've started drinking more water that if I drink something that is known to dehydrate like coffee, tea, or caffeinated drinks, then I will feel much more dehydrated later. I suppose your body likes the feeling of being hydrated and doesn't like you trying to dehydrate it again.
12. Don't sign up for the reality TV show, "Survivor"
The bad news with doing this is that if you ever get stranded on a desert island or go on a show like "Survivor", I think you'll be the first to go. I think once you're hydrated, you definitely feel the effects of dehydration much more than you did when you weren't drinking enough. The good news is that you are now so much healthier and won't be feeling tired anymore.
*********************************************************
I've been really amazed by how much more energy I have now that I'm drinking more water. Before I started, I was finding that I was so tired and wasn't able to concentrate that well. I was also starting to depend on drinking tea to get me through the day.
Anyway, if you've been feeling tired and having a hard time concentrating, it's worth a try. It's definitely easy to do, doesn't really cost you anything (unless you buy bottled water), and there shouldn't be any negative side effects for you. The only caveat to that is that just like anything else there is a point where you can drink too much water. So, don't go completely overboard but do give it a try.


Additional Ideas

Help Prevent Bad Breath
In addition to all the hydration benefits you'll receive from drinking plenty of water, you'll also avoid dry mouth, a major contributor to chronic bad breath. For additional information, read this interesting article on the Kiss Bad Breath Goodbye web site: Fourteen Guidelines To Help You Prevent Bad Breath.
Crohn's, Colities, Irritable Bowel Syndrome
If you have one of the above problems then you may be interested in reading, "Conquering Inflammatory Bowel Disease: Crohn's Disease and Colitis" as to what he says about drinking water at mealtimes. He recommends that you don't drink any liquids during a meal or for one hour afterwards. He explains why in this report.
Related Articles for Feeling Tired All the Time