About Life With Confidence
by Catherine Pratt
www.Life-With-Confidence.com


Well, this is me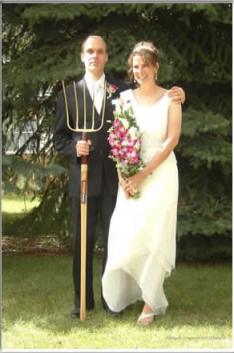 When I was trying to find a picture of myself so you could see what I looked like, I realized I don't have all that many pictures of me. I think because I'm usually the one taking the pictures. Anyway, thought you might like to see the face behind Life With Confidence. This is me and my husband being silly on our wedding day. My husband wanted us to look like the American Gothic picture shown below painted in 1930 by Grant Wood. Not sure if we were too successful. I definitely didn't get the dour look right. Also, looks like we aren't standing on the correct sides either.
I'm not sure why it looks like I only have one leg. I do have two. We had a few problems with the photographer but I think that just added to the memories of the event. It was an absolutely perfect day. I couldn't have asked for anything better.

It all started with a Rejection
Anyway, enough about my wedding. I'd thought I'd give you a little background on why I created this site in the first place.
This site came into being because I was rejected for a volunteer writing gig. It's a perfect example of how a setback or disappointment can end up being a really good thing. At the time though, it was a huge disappointment. I had finally worked up enough courage to try and pursue my dream of writing. My first attempt was to submit an article to a volunteer online magazine. They asked for a portfolio of my writing. Didn't have that. So, I wrote two articles that I thought would be a good match for their magazine. I waited one week, nothing, and then another week, nothing and then a month went by. I knew it. I'd been rejected by a company that wasn't even going to pay me for my work. Well, that hurt.
This was one of my biggest challenges. I'd always been too afraid to let anyone read my writing. Not totally sure why. I think I was afraid of being told I was a terrible writer or just the possibility of rejection. And with this company not responding, it was hard on the self-esteem and my self-confidence to be outright rejected on the first attempt. But, I still really wanted to write so I knew I needed to try again. I needed to come up with a solution.
A Solution?
I decided my first plan of attack would be to develop a portfolio as that seemed to be the requirement for all the freelance writing jobs I'd seen advertised. But, how could I get around the Catch-22 of needing some published examples yet can't get published unless I have a portfolio?
And then the answer came to me. I'd set up my own web site. I would use the two articles I'd written for that company and publish them myself. I thought they were pretty good and it would be a start.
The First Web Site
So, I researched everything on how to set up a web site. I needed to learn everything from how to get a hosting company to how to get a domain name to how to get traffic. Once I had that all set up, I wrote some more articles and posted them on the site along with those two original articles. It was a slow process learning about domain names, hosting companies etc. but it gave me a sense of accomplishment and I felt like I was slowly moving towards my dream of writing. I liked the site but it wasn't as good as I knew it could be.
It was also time consuming dealing with the technical aspects of it. I also discovered that I was constantly being asked for more money if I ever wanted to add any additional functionality (the ability to send out a newsletter for example).
It also wasn't getting any traffic. I'd gotten to the point that I wanted to share my knowledge with others that were going through the same things I had. But, how do you advertise your site without spending a lot of money?
There Was a Better Solution
When I was surfing the internet one day looking for ways to increase traffic to my website, I stumbled on a company called Site Build It. They had amazing free e-books available. These books contain some of the best information on how to build and write for a successful web site I've ever found. And it was free! Couldn't beat that.
One of the free books was basically a course on how to build a successful web site. I started to follow it and I knew this was the solution I'd been looking for. It made sense to me and it was easy to understand and follow. They actually provided information that would have taken me years to figure out on my own. I learned more from this course than I did after spending years in the corporate world working on web sites. I also learned more from SBI's course than I did from taking courses at my local college. And, it was provided free with the hosting and domain name. I think this is probably one of the main advantages I got from using SBI. Other hosting companies would provide me with the tools to build a web site but they wouldn't teach me how to create a successful web site.
So, I decided to start over using their web hosting and their ideas on how to come up with a web site name. Their package walked me through everything I needed and made it so easy for me to set up my new site. I didn't even need to buy a web site package like FrontPage or Publisher as they have an online tool that I just enter in my content and then press a "build it" button and then their system builds the page instantly for me. It just couldn't be easier. They do all the technical stuff so I just have to concentrate on the content. I've used DreamWeaver and FrontPage before and this was just such so much easier. They also registered my domain name, Life-With-Confidence.com for no additional charge. Nice.
I still can easily switch back to using FrontPage or DreamWeaver if I want to as SiteBuildIt allows you to upload your own html pages but so far, I find it easier using their tool. But, it's nice to know I have that option available to me.
The Big Day
So, on July 1, 2005, Life With Confidence was registered and it's very first page posted. I knew I was on the right track. Finally, here was the answer, after years of trying to find something that matched my passion for writing, my desire for independence, and my craving to be creative. Site Build It provides everything I need so that I just have to concentrate on the content. It's amazing how much easier they made it compared to my first attempt with trying to set up a web site. I wish I'd started with them from the beginning but you have to start somewhere. Opportunities arise as you take small step by small step towards your dream.
Yes, I Can Do This!
The one thing I really like about Site Build It is that it means that the little guy can have just as nice of a web site as a multi-million dollar company and you don't even need any fancy software packages or any web site building knowledge.
I also love the forum they provide which has the most encouraging, positive thinking members. They also provide information that just can't be found anywhere else on how to make your web site successful. But, the part I like most is that they make it fun! I have a blast with this web site partly because of that forum. I read the messages on the forum and I'm filled with enthusiasm and excitement and confidence. They make me believe, "Yes, I can do this! I can have my own web site and it looks good." The energy on the forum is contagious. It's something that money just can't buy.
Following my Passion
I'm now following my passion for both writing and finding ways to increase my confidence. The ultimate goal is to be able to quit my day job and concentrate full time on this web site. With Site Build It, the traffic keeps increasing every month and I can see that it's working even though the site hasn't been up all that long.
When I work on this site, time just flies by and I'm filled with energy. I may come home from work completely wiped out and I'll tell myself to just spend 10 minutes working on this site. Even after that short period of time, I am renewed with vitality. It makes me feel like I'm finally providing value to the world in my own small way.
---
Feeling valuable is priceless - Charles Burke
---
If by passing on the tips and tricks for building confidence that I have learned along the way helps even one person in their quest to believe in themselves, it's worth it. As Charles Burke quote says, it's a priceless feeling. What greater gift can you give to someone than by helping them to be the best they can be and to achieve their dreams? It's how I know I'm finally on the right path for me.
Professional Background
So, if you're now wondering what kind of formal training I have in this area, I'll admit that I don't have any formal training in life coaching or psychology. My university degree is actually in Communications. Everything I write about on this site comes from what I've learned from reading, courses I've taken, and good old fashioned "trial and error". I try out everything in my own life prior to writing about it on this site. Hope you're not too disappointed that I'm not a "professional" life coach. : - )
For More Information
Anyway, that's just a little bit about me and this site. If you want more information on Site Build It, you can ask them any questions you'd like at: Have A Questions?.


Or feel free to drop me a line using my contact form.
Rejection With a Happy Ending
As you can see, setbacks and disappointments can sometimes be a good thing. I'm now really happy that I was originally rejected. I doubt if any of this would ever have happened if that company had immediately accepted me. And as an update, about 1 month after I had my site set up, that company sent me an email saying that they were going to publish my articles after all. How cool is that? And since then, I've been published in textbooks, magazines like, "Real Women On the Run" and various other internal company magazines plus a few online ezines. I've also been the "featured cool site" on sites like Cool Site of The Day and on several TV stations.
It's been quite the exciting journey so far and I'm looking forward to even more thrilling adventures in the future. Thank you for letting me share it with you and for sharing a little of yourself with me.
Quick Note to "Borrowers":
I'm always thrilled when people like my articles enough to share them with others but please, Do NOT copy entire articles and post them on forums, blogs, or other web sites. If you'd like to share an article, just post a link to the page. Thank you. I very much appreciate that.

Back to Top of "About Life With Confidence"