Reflections on the True Meaning of Life
From Email Stories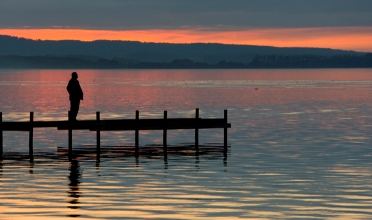 Every once in a while, someone will send me a short confidence story or an email which just reminds me of the true meaning of life. We get so caught up in the chores of day to day life that we sometimes forget. I thought I'd share with you some of the good ones I've seen lately.
A Carrot, An Egg, and a Cup of Coffee
Author Unknown
A carrot, an egg, and a cup of coffee...You will never look at a cup of coffee the same way again.
A young woman went to her mother and told her about her life and how things were so hard for her. She did not know how she was going to make it and wanted to give up, She was tired of fighting and struggling. It seemed as one problem was solved, a new one arose.
Her mother took her to the kitchen. She filled three pots with water and placed each on a high fire. Soon the pots came to boil. In the first she placed carrots, in the second she placed eggs, and in the last she placed ground coffee beans. She let them sit and boil; without saying a word.
In about twenty minutes she turned off the burners. She fished the carrots out and placed them in a bowl. She pulled the eggs out and placed them in a bowl. Then she ladled the coffee out and placed it in a bowl. Turning to her daughter, she asked, ' Tell me what you see.'
'Carrots, eggs, and coffee,' she replied.
Her mother brought her closer and asked her to feel the carrots. She did and noted that they were soft. The mother then asked the daughter to take an egg and break it. After pulling off the shell, she observed the hard boiled egg.
Finally, the mother asked the daughter to sip the coffee. The daughter smiled as she tasted its rich aroma. The daughter then asked, 'What does it mean, mother?'
Her mother explained that each of these objects had faced the same adversity: boiling water. Each reacted differently. The carrot went in strong, hard, and unrelenting. However, after being subjected to the boiling water, it softened and became weak. The egg had been fragile. Its thin outer shell had protected its liquid interior, but after sitting through the boiling water, its inside became hardened. The ground coffee beans were unique, however. After they were in the boiling water, they had changed the water.
'Which are you?' she asked her daughter. 'When adversity knocks on your door, how do you respond? Are you a carrot, an egg or a coffee bean?
Think of this: Which am I? Am I the carrot that seems strong, but with pain and adversity do I wilt and become soft and lose my strength?
Am I the egg that starts with a malleable heart, but changes with the heat? Did I have a fluid spirit, but after a death, a breakup, a financial hardship or some other trial, have I become hardened and stiff? Does my shell look the same, but on the inside am I bitter and tough with a stiff spirit and hardened heart?
Or am I like the coffee bean? The bean actually changes the hot water, the very circumstance that brings the pain. When the water gets hot, it releases the fragrance and flavor. If you are like the bean, when things are at their worst, you get better and change the situation around you. When the hour is the darkest and trials are their greatest do you elevate yourself to another level? How do you handle adversity? Are you a carrot, an egg or a coffee bean?
May you have enough happiness to make you sweet, enough trials to make you strong, enough sorrow to keep you human and enough hope to make you happy.
The happiest of people don't necessarily have the best of everything; they just make the most of everything that comes along their way. The brightest future will always be based on a forgotten past; you can't go forward in life until you let go of your past failures and heartaches.
When you were born, you were crying and everyone around you was smiling.
Live your life so at the end, you're the one who is smiling and everyone around you is crying.
May we all be COFFEE!
---
Struggle
Author Unknown
A man found a cocoon of a butterfly. He sat and watched the butterfly for several hours as it struggled to force its body through the little hole at the end.
Eventually, the butterfly stopped making progress. It appeared as if it had gotten as far as it could and it could go no farther. The man decided to help the butterfly, so he took a pair of scissors and snipped off the remaining bit of the cocoon. The butterfly then emerged easily, but it had a swollen body and small, shriveled wings.
The man continued to watch the butterfly because he expected that, at any moment, the wings would enlarge and expand to be able to support the body, which would contract in time.
Neither happened! In fact, the butterfly spent the rest of its life crawling around with a swollen body and shriveled wings. It never was able to fly.
What the man in his kindness and haste did not understand was that the restricting cocoon and the struggle required for the butterfly to get through the tiny opening were nature's way of forcing fluid from the body of the butterfly into its wings so that it would be ready for flight once it achieved its freedom from the cocoon.
Sometimes struggles are exactly what we need in our life. If nature allowed us to go through our life without any obstacles, it would cripple us. We would not be as strong as what we could have been. And we could never fly...
From World Center for EFT
---
Four Wives

Author Unknown
Once upon a time there was a rich King who had four wives.
He loved the 4th wife the most and adorned her with rich robes and treated her to the finest of delicacies. He gave her nothing but the best.
He also loved the 3rd wife very much and was always showing her off to neighbouring kingdoms. However, he feared that one day she would leave him for another.
He also loved his 2nd wife. She was his confidant and was always kind, considerate and patient with him. Whenever the King faced a problem, he could confide in her, and she would help him get through the difficult times.
The King's 1st wife was a very loyal partner and had made great contributions in maintaining his wealth and kingdom. However, he did not love the first wife. Although she loved him deeply, he hardly took notice of her!
One day, the King fell ill and he knew his time was short. He thought of his luxurious life and wondered, I now have four wives with me, but when I die, I'll be all alone."
Thus, he asked the 4th wife, "I loved you the most, endowed you with the finest clothing and showered great care over you. Now that I'm dying, will you follow me and keep me company?"
"No way!", replied the 4th wife, and she walked away without another word. Her answer cut like a sharp knife right into his heart.
The sad King then asked the 3rd wife, "I loved you all my life. Now that I'm dying, will you follow me and keep me company?" "No!", replied the 3rd wife. "Life is too good! When you die, I'm going to remarry!" His heart sank and turned cold.
He then asked the 2nd wife, "I have always turned to you for help and you've always been there for me. When I die, will you follow me and keep me company?"
"I'm sorry, I can't help you out this time!", replied the 2nd wife. "At the very most, I can only walk with you to your grave." Her answer struck him like a bolt of lightning, and the King was devastated.
Then a voice called out: "I'll go with you. I'll follow you no matter where you go." The King looked up, and there was his first wife. She was very skinny as she suffered from malnutrition and neglect. Greatly grieved, the King said, "I should have taken much better care of you when I had the chance!"
In truth, we all have the 4 wives in our lives:
Our 4th wife is our body. No matter how much time and effort we lavish in making it look good, it will leave us when we die.
Our 3rd wife is our possessions, status and wealth. When we die, it will all go to others.
Our 2nd wife is our family and friends. No matter how much they have been there for us, the furthest they can stay by us is up to the grave.
And our 1st wife is our Soul. Often neglected in pursuit of wealth, power and pleasures of the world. However, our Soul is the only thing that will follow us wherever we go.
Cultivate, strengthen and cherish it now, for it is the only part of us that will follow us to the throne of God and continue with us throughout Eternity.
---
Cracked Pots

I don't know where this one came from. It's one of those stories circulating through the internet.
An elderly Chinese woman had two large pots, each hung on the ends of a pole which she carried across her neck. One of the pots had a crack in it while the other pot was perfect and always delivered a full portion of water. At the end of the long walk from the stream to the house, the cracked pot arrived only half full.
For a full two years this went on daily, with the woman bringing home only one and a half pots of water. Of course, the perfect pot was proud of its accomplishments. But the poor cracked pot was ashamed of its own imperfection, and miserable that it could only do half of what it had been made to do.
After 2 years of what it perceived to be bitter failure, it spoke to the woman one day by the stream "I am ashamed of myself, because this crack in my side causes water to leak out all the way back to your house."
The old woman smiled, "Did you notice that there are flowers on your side of the path, but not on the other pot's side? That's because I have always known about your flaw, so I planted flower seeds on your side of the path, and every day while we walk back, you water them."
"For two years I have been able to pick these beautiful flowers to decorate the table. Without you being just the way you are, there would not be this beauty to grace the house."
Each of us has our own unique flaw. But it's the cracks and flaws we each have that make our lives together so very interesting and rewarding.
You've just got to take each person for what they are and look for the good in them.
---
If I had my Life to Live Over
by Erma Bombeck
(written after she found out she was dying from cancer)
I would have gone to bed when I was sick instead of pretending the earth would go into a holding pattern if I weren't there for the day.
I would have burned the pink candle sculpted like a rose before it melted in storage.
I would have talked less and listened more.
I would have invited friends over to dinner even if the carpet was stained, or the sofa faded.
I would have eaten the popcorn in the 'good' living room and worried much less about the dirt when someone wanted to light a fire in the fireplace.
I would have taken the time to listen to my grandfather ramble about his youth.
I would have shared more of the responsibility carried by my husband.
I would never have insisted the car windows be rolled up on a summer day because my hair had just been teased and sprayed.
I would have sat on the lawn with my grass stains.
I would have cried and laughed less while wat! ching television and more while watching life.
I would never have bought anything just because it was practical, wouldn't show soil, or was guaranteed to last a lifetime.
Instead of wishing away nine months of pregnancy, I'd have cherished every moment and realized that the wonderment growing inside me was the only chance in life to assist God in a miracle.
When my kids kissed me impetuously, I would never have said, "Later. Now go get washed up for dinner." There would have been more "I love you's." More "I'm sorry's."
But mostly, given another shot at life, I would seize every minute...look at it and really see it . live it and never give it back. Stop sweating the small stuff.
Don't worry about who doesn't like you, who has more, or who's doing what.
Instead, let's cherish the relationships we have with those who do love us. Let's think about what God HAS blessed us with. And what we are doing each day to promote ourselves mentally, physically, emotionally. I hope you all have a blessed day.
---
Appreciating What We Have
Author Unknown
If you woke up this morning with more health than illness, you are more blessed than the million who won't survive the week.
If you have never experienced the danger of battle, the loneliness of imprisonment, the agony of torture or the pangs of starvation, you are ahead of 20 million people around the world.
If you attend a church meeting without fear of harassment, arrest, torture, or death, you are more blessed than almost three billion people in the world.
If you have food in your refrigerator, clothes on your back, a roof over your head and a place to sleep, you are richer than 75% of this world.
If you have money in the bank, in your wallet, and spare change in a dish someplace, you are among the top 8% of the world's wealthy.
If your parents are still married and alive, you are very rare, especially in the United States.
If you hold up your head with a smile on your face and are truly thankful, you are blessed because the majority can, but most do not.
If you can hold someone's hand, hug them or even touch them on the shoulder, you are blessed because you can offer God's healing touch.
If you can read this message, you are more blessed than over two billion people in the world that cannot read anything at all.
You are so blessed in ways you may never even know.
---
We're Always Valuable No Matter What
Author Unknown
A well-known speaker started off his seminar by holding up a $20.00 note. In the room of 200, he asked,
"Who would like this $20 note?"
Hands started going up.
He said, "I am going to give this $20 to one of you but first, let me do this.
He proceeded to crumple up the $20 note.
He then asked, "Who still wants it?"
Still the hands were up in the air.
Well, he replied, "What if I do this?"
And he dropped it on the ground and started to grind it into the floor with his shoe.
He picked it up, now crumpled and dirty.
"Now, who still wants it?"
Still the hands went into the air.
My friends, we have all learned a very valuable lesson.
No matter what I did to the money, you still wanted it because it did not decrease in value.
It was still worth $20.
Many times in our lives, we are dropped, crumpled, and ground into the dirt by the decisions we make and the circumstances that come our way.
We feel as though we are worthless.
But no matter what has happened or what will happen, you will never lose your value.
Dirty or clean, crumpled or finely creased, you are still priceless to those who DO LOVE you.
The worth of our lives comes not in what we do or who we know, but by WHO WE ARE.
You are special- Don't EVER forget it."
If you do not pass this on, you may never know the lives it touches, the hurting hearts it speaks to, or the hope that it can bring.
Count your blessings, not your problems.
And remember: amateurs built the ark, professionals built the Titanic.
If God brings you to it - He will bring you through it.
---
Silver Linings
This Is Good!
The story is told of a king in Africa who had a close friend with whom he grew up. The friend had a habit of looking at every situation that ever occurred in his life (positive or negative) and remarking, "This is good!"
One day the king and his friend were out on a hunting expedition. The friend would load and prepare the guns for the king. The friend had apparently done something wrong in preparing one of the guns, for after taking the gun from his friend, the king fired it and his thumb was blown off.
Examining the situation the friend remarked as usual, "This is good!"
To which the king replied, "No, this is NOT good!" and proceeded to send his friend to jail.
About a year later, the king was hunting in an area that he should have known to stay clear of. Cannibals captured him and took them to their village. They tied his hands, stacked some wood, set up a stake and bound him to the stake. As they came near to set fire to the wood, they noticed that the king was missing a thumb. Being superstitious, they never ate anyone that was less than whole. So untying the king, they sent him on his way.
As he returned home, he was reminded of the event that had taken his thumb and felt remorse for his treatment of his friend. He went immediately to the jail to speak with his friend. "You were right," he said, "it was good that my thumb was blown off. And he proceeded to tell the friend all that had just happened. "And so I am very sorry for sending you to jail for so long. It was bad of me to do this."
"No" his friend replied, "This is good!"
"What do you mean, "This is good?" How could it be good that I sent my friend to jail for a year?"
"If I had NOT been in jail, I would have been with you."
Situations may not always seem pleasant while we are in them, but the promise of God is clear. If we love Him and live our lives according to His precepts, even that which seems to be bleak and hopeless will be turned by God for His glory and our benefit.
Regards, Umoh, O. F (Odudu)
---
Lessons from the Dalai Lama
Instructions for Life in the new millennium from the Dalai Lama:
1. Take into account that great love and great achievements involve great risk.
2. When you lose, don't lose the lesson.
3. Follow the three Rs: Respect for self, respect for others and responsibility for all your actions.
4. Remember that not getting what you want is sometimes a wonderful stroke of luck.
5. Learn the rules so you know how to break them properly.
6. Don't let a little dispute injure a great friendship.
7. When you realize you've made a mistake, take immediate steps to correct it.
8. Spend some time alone every day.
9. Open your arms to change, but don't let go of your values.
10. Remember that silence is sometimes the best answer.
11. Live a good, honorable life. Then when you get older and think back, you'll be able to enjoy it a second time.
12. A loving atmosphere in your home is the foundation for your life.
13. In disagreements with loved ones, deal only with the current situation. Don't bring up the past.
14. Share your knowledge. It's a way to achieve immortality.
15. Be gentle with the earth.
16. Once a year, go some place you've never been before.
17. Remember that the best relationship is one in which your love for each other exceeds your need for each other.
18. Judge your success by what you had to give up in order to get it.
19. Approach love and cooking with reckless abandon.
---
We Make a Difference
Nudge the Balance

Author Unknown
A 91-year-old woman died after living a very long dignified life. When she met God, she asked Him something that had really bothered her for a very long time. "If Man was created in God's image, and if all men are created equal, why do people treat each other so badly?"
God replied that each person who enters our life has a unique lesson to teach us. It is only through these lessons that we learn about life, people and our relationships with God. This confused the woman, so God began to explain:
"When someone lies to you, it teaches you that things are not always what they seem. The truth is often far beneath the surface. Look beyond the masks people wear if you want to know what is in their hearts. Remove your own masks to let people know who you really are.
When someone steals from you it teaches you that nothing is forever. Always appreciate what you have. You never know when you might lose it. Never take your friends or family for granted, because today and sometimes only this very moment is the only guarantee you may have. When someone inflicts injury upon you, it teaches you that the human state is a very fragile one. Protect and take care of your body as best as you can, it's the one thing that you are sure to have forever.
When someone mocks you, it teaches you that no two people are alike. When you encounter people who are different from you, do not judge them by how they look or act, instead base it on the contents of what is in their hearts.
When someone breaks your heart, it teaches you that loving someone does not always mean that the person will love you back. But don't turn your back on love, because when you find the right person, the joy that one person brings you will make up for all of your past hurts. Times a thousand fold.
When someone holds a grudge against you, it teaches you that everyone makes mistakes. When you are wronged, the most virtuous thing you can do is forgive the offender without pretense. Forgiving those who have hurt us is often the most difficult and painful of life's experiences, but it is also the most courageous thing a person can do.
When a loved one is unfaithful to you, it teaches you that resisting temptation is Man's greatest challenge. Be vigilant in your resistance against all temptations. By doing so, you will be rewarded with an enduring sense of satisfaction far greater than the temporary pleasure by which you were tempted.
When someone cheats you, it teaches you that greed is the root of all evil. Aspire to make your dreams come true, no matter how lofty they may be. Do not feel guilty about your success, but never let an obsession with achieving your goals lead you to engage in malevolent activities.
When someone ridicules you, it teaches you that nobody is perfect. Accept people for their merits and be tolerant of their flaws. Do not ever reject someone for imperfections over which they have no control."
Upon hearing the Lord's wisdom, the old woman became concerned that there are no lessons to be learned from man's good deeds. God replied that Man's capacity to love is the greatest gift He has. At the root of kindness and love, and each act of love also teaches us a lesson. The woman's curiosity deepened. God, once again began to explain:
"When someone loves us, it teaches us love, kindness, charity, honesty, humility, forgiveness, acceptance, and all of these can counteract all the evil in the world. For every good deed, there is one evil deed. Man alone has the power to control the balance between good and evil, but because the lessons of love are not taught often enough, the power is too often abused. When you enter someone's life, whether by plan, chance or coincidence, consider what your lesson will be. Will you teach love or a harsh lesson of reality? When you die, will your life have resulted in more loving or more hurting? More comfort or more pain? More joy or more sadness? Each one of us has the power over the balance of the love in the world. Use it wisely!"
Don't miss an opportunity to nudge the world's scale in the right direction! ~Author Unknown~
(Back to Top)