Affiliate Information for Life With Confidence
It's so quick and easy to start earning valuable referral rewards simply by becoming an affiliate of Life With Confidence. The current affiliate payout is 50% per book sold through your affiliate link. To start offering my ebooks on your web site, you just need to click on the following link:
You'll be taken to a log-in page on e-junkie.com. Here's where you'll sign in using your e-junkie name and password or register for an e-junkie account.
Note: You'll also need a PayPal account as this is how you'll be paid.
Once you're signed in then click on "Get Affiliate Code" and select from the drop down box which product you'd like to promote. Then you will be taken to the page where you can copy the code to paste on to your web page.
If you'd like more detailed instructions on the set up process which includes screen shots, click here.
Payments
You'll instantly and automatically receive an email whenever a sale is made from your affiliate link. Each month's earnings will be paid via PayPal within 15 days of month end.
Also, once you've set up an account, you'll be able to log in at any time to view your stats.
Questions?
If you have any questions, please Contact Me.
I also wanted to say a big Thank You for helping me to spread the word about my books. I look forward to working with you.
Catherine
www.Life-With-Confidence.com
Detailed Instructions For Setting Up Your Affiliate Account
1. Click on the following link:
My Affiliate Program and sign into your e-junkie account or register for an account.
2. Select "Edit Profile"

3. You should now see the following page.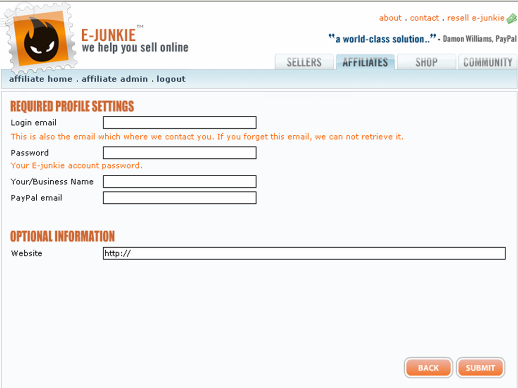 On this page, you will be setting yourself up as an affiliate so that you can log in later to see your stats or if you ever need to get the codes for your web site.
Most of this information should already be entered from having set up your e-junkie account originally. It's good to check all the information again though to make sure it's correct.
In the first field, enter in your email address. You'll need to remember this email address if you want to log back into your affiliate account later.
If you have an e-junkie account already then enter in your password here. If you don't, then enter in what you would like to use as a password for your account.
In the next field, you can either enter in your personal name or your business name if you have one.
Next, simply enter in your PayPal email. You'll need to have set up a PayPal email prior to becoming an affiliate. Triple check that you enter your email information correctly. It's the only way I have to pay you for your affiliate sales.
And, in the very last field, you can enter in your web site address if you'd like. This one's optional though.
Once you've filled in all the fields, click on the "Submit" button.
You should now be back at the "Manage Your Affiliate Account" screen.

4. Now select "Get Affiliate Code"

5. You should be able to see "Life With Confidence" in the "Select Merchant" field. If you don't, use the drop down box to select it. Then click the "Get Affiliate Code" button.

6. You should now see the following screen which is where you will be selecting which product you'd like to get the code for. Use the drop down box to see your options and then select the one you'd like to promote on your web site. Then click the "Get Affiliate Code" button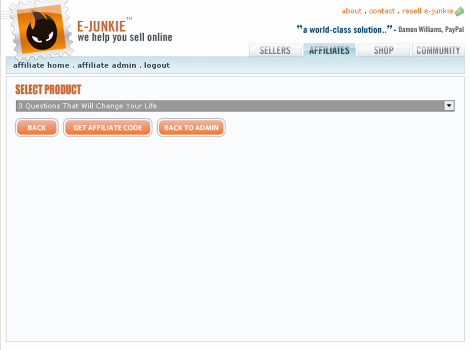 7. You should now see a page similar to the following. This is where you can choose to sell the product directly from your site or link to my product information page. Select the code you want to use, copy it, and then paste it into your web page. And, that's it, you're done. Please note: you don't seem to be able to use Control C to copy the code. You'll need to right mouse click and select "copy". Or if you're using a mac, right mouse click, "select all".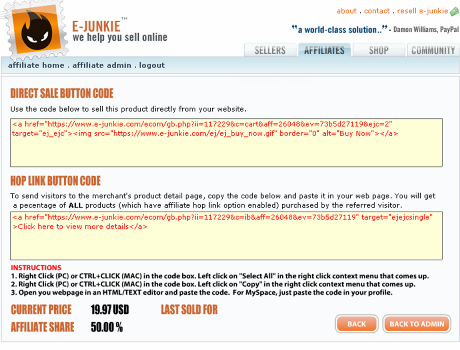 8. You're now all set up and ready to go. Thank you so much for becoming an affiliate. If you have any problems, contact me and I'll help you.