I just moved into a new neighborhood and want to meet all my neighbors, but I'm too shy!!

A huge Thank You to all those who responded. It really does help me to get a better understanding of the issues you're dealing with right now and need answers on how to deal with them.

And, it's not too late to send in your response too.

Hit REPLY right now while you're thinking about it and let me know. I really do want to provide the most helpful information to you so let me know what you need and I'll do my best to provide it.
Are you saying these things and destroying your own confidence?
It's finally Spring where I live after a super long Winter and I saw my neighbor examining the shrubs that straddle our properties. When I went out to see what he was up to, he told me the shrubs need pruning. He then said, "I don't feel like doing it today. I'll do it later."

A pretty basic sentence but it struck me how often we say things like this to ourselves without even thinking about it. Yet, it's sentences like this which can completely throw off our goals and can even prevent us from living to our full potential.

We're self sabotaging ourselves by not paying attention to our automatic responses. We say them and move on.

So, saying, "I'll do it later" is one of the most common ones we say but I started thinking about what other ones are just as damaging yet we don't even think about them.

So, I came up with a list of the 6 most damaging sentences to your self-confidence. You probably don't even realize how destructive these sentences are.

I bet you've said #3 quite a few times. This one temporarily releases you from the guilt you're feeling.

You can read it here: 6 Sentences Which Destroy Your Self-Confidence
Meditation To Try
As I've mentioned in previous emails, I'm working on trying to have more focused attention. I'm having success in some areas, not so much in other areas.

One thing I've wanted to do is meditate. But I can only do it for about a minute and then I get distracted or have an intense desire to do something else.

I've been having some good success by using a program called Zen 12 though.

All you have to do is listen to the music for 12 minutes, with or without headphones. You don't even have to worry about sitting perfectly still with a focused mind. The music puts your mind in a meditative state. Whoo Hoo! My kind of meditation.

I find it very calming. Doesn't have annoying sounds like bells or rain like a lot of mediation music does.

It's also been helpful playing it when I want to focus on a task.

They also offer a guided meditation and the guy does have an incredibly calming voice and it's an interesting guided process. Not a lot of breathe in, breathe out talk which I've never liked.

Anyway, if you'd like to give it a try, you can download a sample here, Zen 12

Be prepared to suddenly feel very, very calm.

To learn more about the program and how it works, here's the link for that: Zen 12 - How It Works

#ad
Motivational Quote - Plus A Treat
I have a fun little extra for you with this week's quote.

The quote is from Norman Vincent Peale but you can also download it as a printable coloring page. This will take you to a pdf you can download and print.

Coloring is such a great form of meditation. It'll relax you as well as calm your brain. Plus, you'll get the quote to remind yourself to believe in yourself.

Have Fun with it!

Let me know if you'd like more of these. I'll make it a standard feature of this newsletter if you do.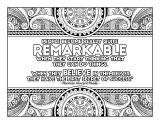 Let Me Know What Info You Need
That's it for this week.

So, before you go, hit reply and let me know where you think you could use a little help with your confidence.

Also, please let me know if you want to see more of the coloring pages.

Have a good week and I'll talk to you again in two weeks.


Catherine
www.Life-With-Confidence.com
---

The Legal Stuff
-------------------------------------------
You are receiving this email because you are a confirmed subscriber of the Life With Confidence announcement list. You would only receive this email if you had signed up for the newsletter and then confirmed your decision via email. If you no longer wish to receive these emails, unsubscribe instructions are at the bottom of this email.
Please be advised that the opinions expressed here are purely those of the author, Catherine Pratt. You read and act upon it at your own risk.